Production of Silos and Mixers
Metalmeccanica Rossi is a family-owned business established in the 1970s. Today the company is managed by sisters Erica and Franca Rossi.
In the early days we manufactured Trevira fabric silos, then over the decades we switched to the storage and mixing of bulk materials like powder and granular materials, flakes, milled materials, by manufacturing vertical and horizontal mixers, vibrating screens and components of industrial systems.
We have a deep knowledge of the chemical, physical and mechanical properties of the materials used in the work cycles, and we specialised in plastics, chemistry, food, pet food industries and others.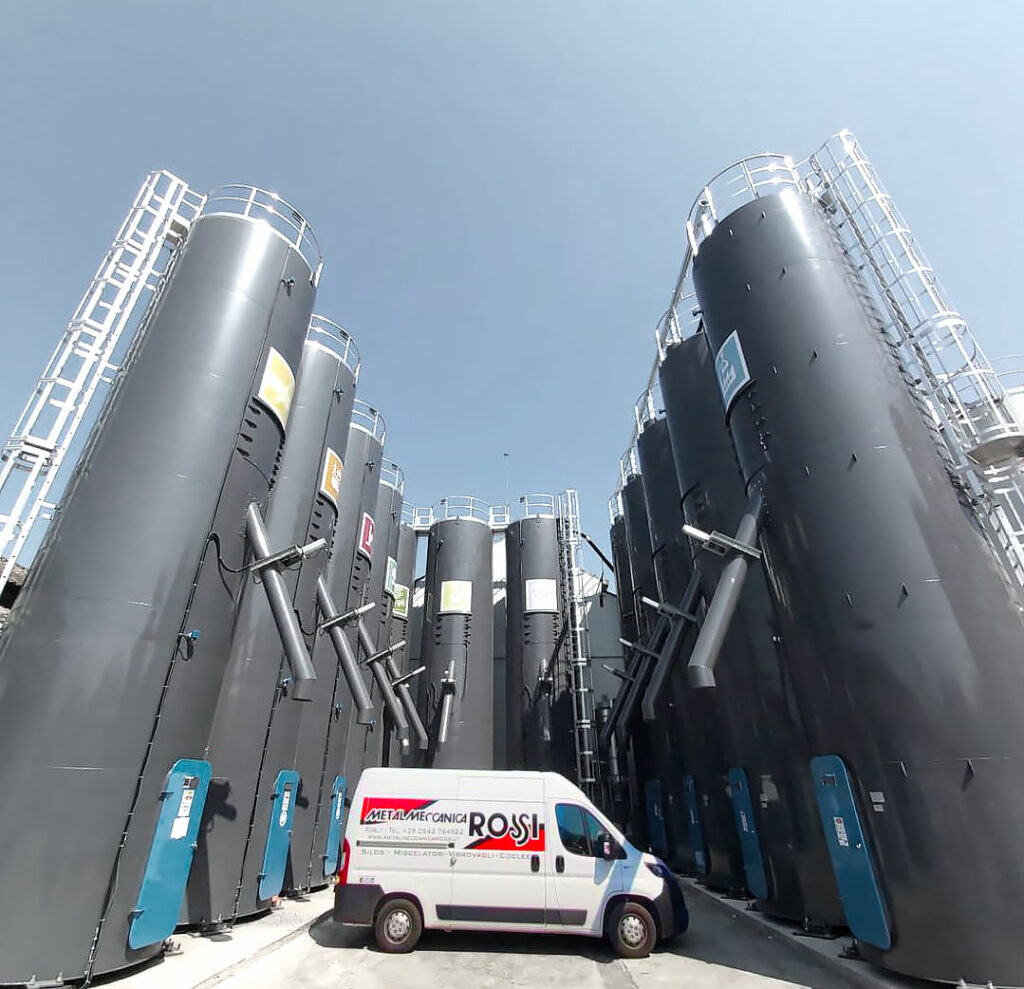 OUR MISSION is to
find the optimal solution TAILORED TO THE CUSTOMER,
producing quality silos as durable as reliable, eliminating any future interventions.
Our mission is to find the best TAILOR-MADE solutions for our customers, by manufacturing
high quality machinery
that ensure durability and reliability and do not require further interventions. We take care of the whole production process from engineering – where our technical department designs new solutions by customising our machines – to manufacturing (calendaring, cutting, welding and assembly) using cutting-edge technology equipment and relying on staff and experts specially trained to meet any needs.
We strongly believe that
safety and quality
must be the key features of our products and our business card on the international market; this is why our products are
marked and certified according to international standard EN ISO 1090-1
which requires certified welding processes subjected to the control of RINA certification body.
We think the sea, the planet and the climate are limitless big concepts, but maybe they are not…
By changing this view we can really protect the environment, the people and our pets.
At our company, we invest in manufacturing machines for improved and more efficient waste managementand recycling.
Our machines are also fitted with high efficiency IE3 motors to ensure energy saving and CO2 emissions reduction.
We manufacture silos, mixers, vibrating screens, screw conveyors that are used in industrial sectors for recycling plastics, packaging and other waste, including organic waste.
We constantly update our knowledge of the materials to be recycled like PET, PVC, PE; we size our machines according to the product to be treated and flow rate, by making preliminary tests in-house.